To all our valued customers.

2002AD has made the move back to the metro Los Angeles area (we are no longer in our temporary Lancaster location), and is now located in the suburb of Pomona, California. We are excited to be back closer to many of our customers so that they can visit us and pick up those great rare parts that make 2002AD what it is. This move was not easy, though, as you can imagine. Over 400 pallets of used parts were moved over a 2-month period, requiring 28 semi truck loads. This move unfortunately took valuable time away from fulfilling orders in a timely manner, but now we are unpacking and organizing everything at our new location and are coming back up to speed. We are in an excellent freeway-close warehouse, having moved everything indoors, and have a retail area as well as plenty of parking (unlike our facility in Sunland).

We apologize for the inconvenience you may have experienced during our relocation. Our objective is to preserve and maintain the heritage of the fine classic BMW automobiles which we specialize in, well into the future. We have appreciated your patience during our move, and we look forward to assisting you with all your classic BMW parts needs in the future, both near and far. .
DRIVE THE LEGEND FOREVER


At 2002AD, we keep the legend of BMW alive.

For two decades, 2002AD has been the recognized and respected source for quality parts, services, and restoration for the greater Los Angeles classic BMW population. Today, 2002AD continues its lasting commitment to keep you on the road in possibly the finest automobile ever made with new, used and restored parts.

Whether you're driving a BMW 2002, CS, Bavaria, or any of the 3-7 series, 2002AD provides you with the parts that will keep your BMW legend at its peak of cruising condition.

Only 2002AD offers you superior selection and expert technical advice that is truly in the spirit of BMW Mobile Tradition. At 2002AD, your search is over.

2002AD. Two decades of keeping the BMW legend alive.


LOCATION
DIRECTIONS TO 2002AD
395 E. Commercial St. Pomona, CA 91767

Directions From Los Angeles:
Take the 10 east past the 57 freeway to Garey Avenue. Exit.
Make a right and go to Monterey.
Take a left on Monterey to Palomares.
Make a right on Palomares and go to Commercial St.
Take a left on Commercial St. and go 2 blocks.
2002AD is at the corner of Commercial St. and Eleanor, at 395 E. Commercial St.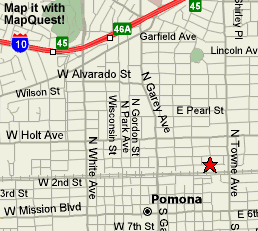 HOURS
Monday through Friday 10 am to 7 pm
Saturday by 10 am to 2 pm
Closed Sunday and holidays
Note: please call before you visit, so that we can locate your parts and have them ready for you