Let us revive your dream! Call 2002 AD today...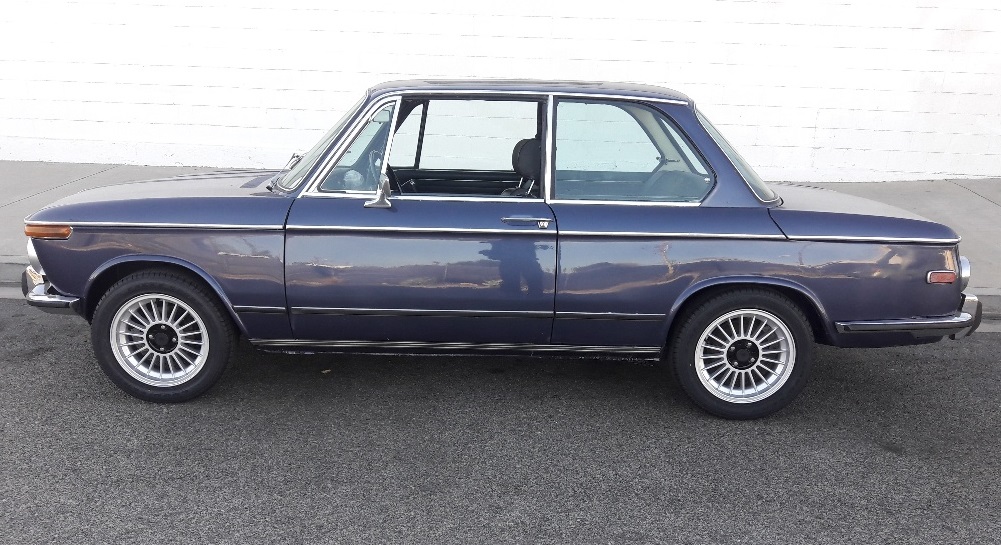 1972 2002
This Arktisblau car was the first car ever purchased by the owner, who was 19 at the time. It got rear-ended, then he put it in storage--moving it around with him wherever he moved fo4 34 years--and finally was in a position to have us restore it for him, to get it back on the road.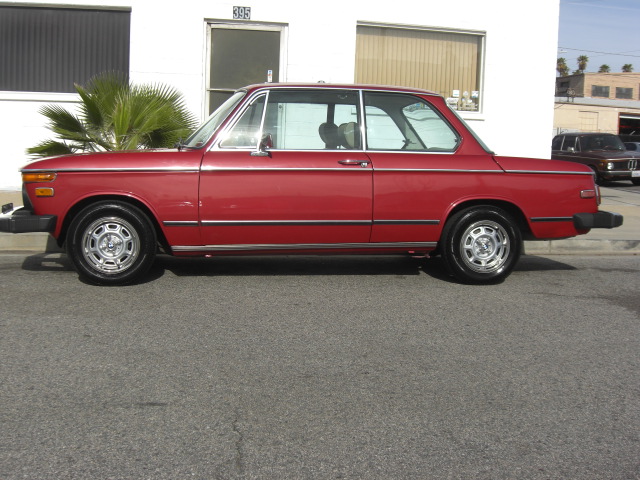 A '76 2002 in the great color scheme of Granatrot on tan, owned "forever" by a Disney illustrator who used it as his daily driver for decades, and then had us rebuild the engine, restore the exterior, and upgrade the A/C and radio for him to enjoy in his retirement.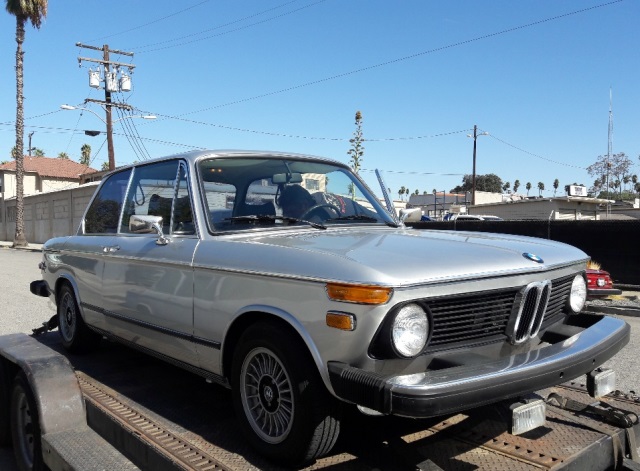 A '76 Polaris/blue car that was brought to us by its long-term owner to refresh. We repainted it in the original color, resurrected the A/C, replaced some trim & seals, redid much of the electrical, and got everything working again so he can drive and enjoy the car regularly, after it sat neglected at his office for many years.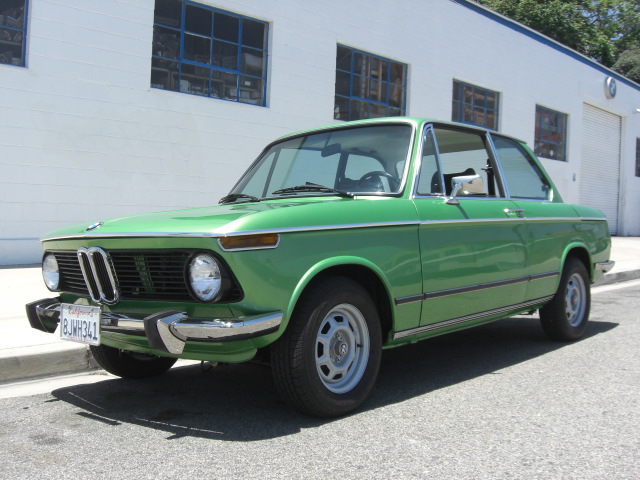 This is a '74 tii from the east coast that we repaired the rust on and then totally restored for its
Orange County owner--except for most of the interior, which oddly enough survived in nearly-new condition.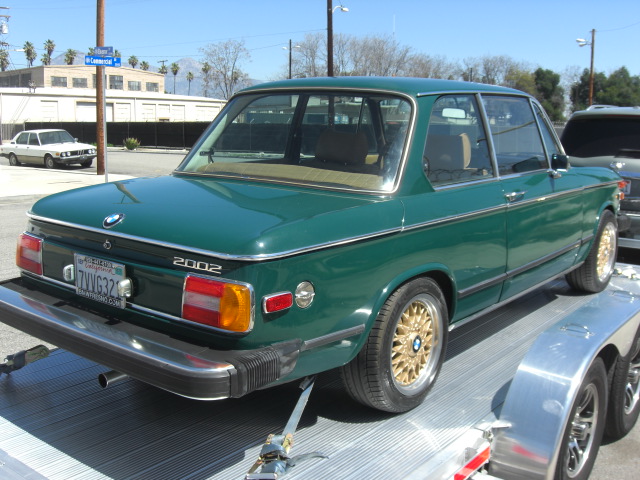 This '74 automatic was brought to us to finish the assembly and restoration of, after being painted and stuck together by another shop, so it could be a reliable daily-driver in a collection of other really nice BMWs.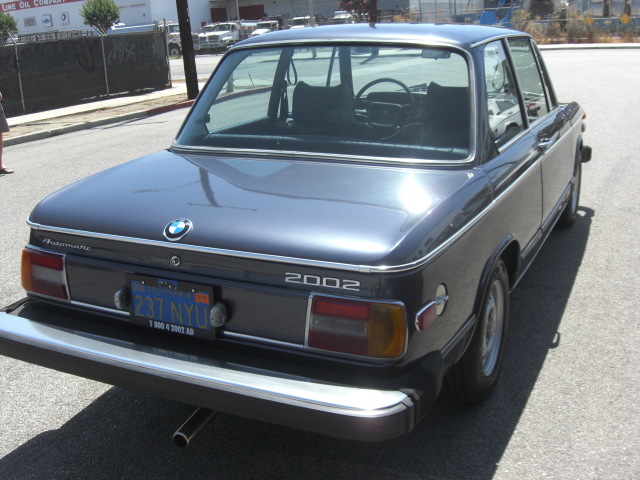 This is an original California '76 2002 in the cool & rare color of Arktisblau, found after sitting for years some place with dogs--which had used the car for a chew toy! The center grille was punctured with dozens of fang holes, and the whole front of the hood was eaten. We changed the grille & hood, did a full exterior restoration of the car, & added A/C for its new owner.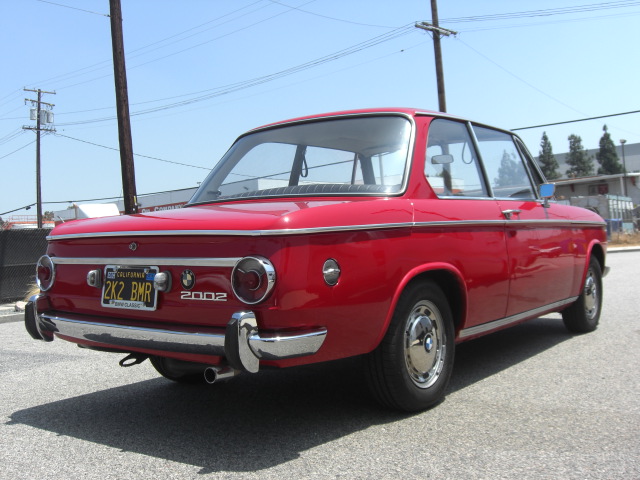 This is a '68 2002 that the owner bought from us as a project and had us first do a mechanical restoration, and then a body restoration on for him, and then he restored the interior himself.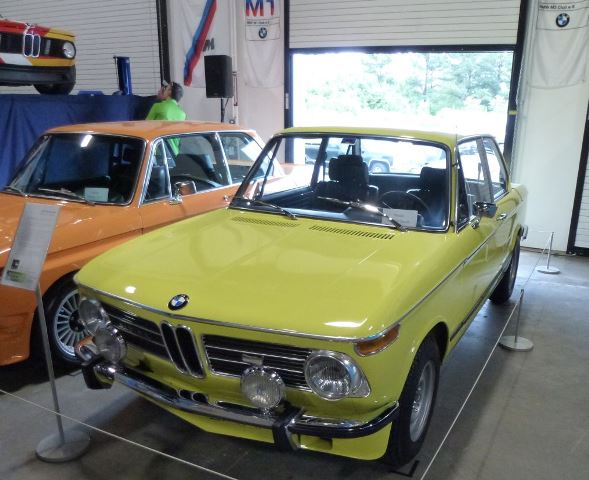 This rare 1972 Alpina A4S was stored outside in Japan for 34 years before we found it and did a total restoration of it, replacing many of its body panels in the process, due to rust. It received trophies in both BMW club concours events at Monterey in 2016, and was honored to represent our company in "The Icon" exhibit by the BMW Foundation at their museum in 2018 for the 50th anniversary of the 2002 (where this photo was taken).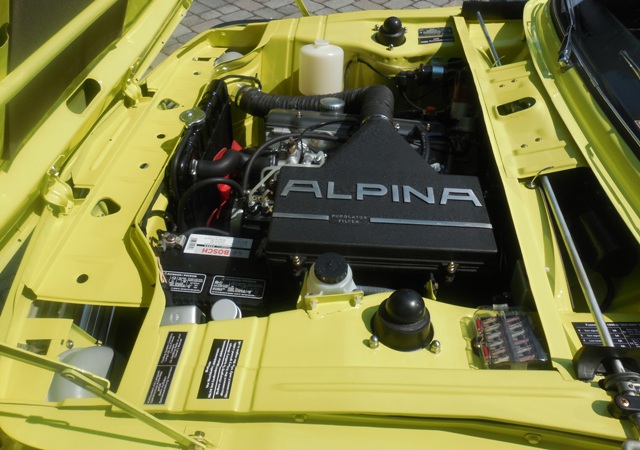 Engine bay on the above tii.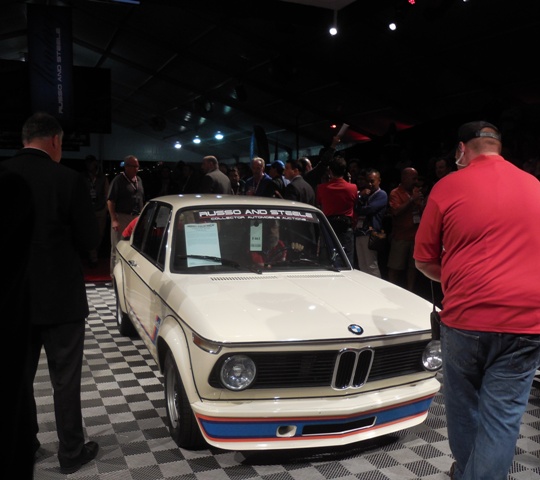 This 2002 Turbo was offered to us by a customer, purchased and then and given a nut-and-bolt restoration in 2015/16 by us for the sole purpose of selling at auction in Monterey, where it realized the highest price of any 2002 Turbo ever sold to date.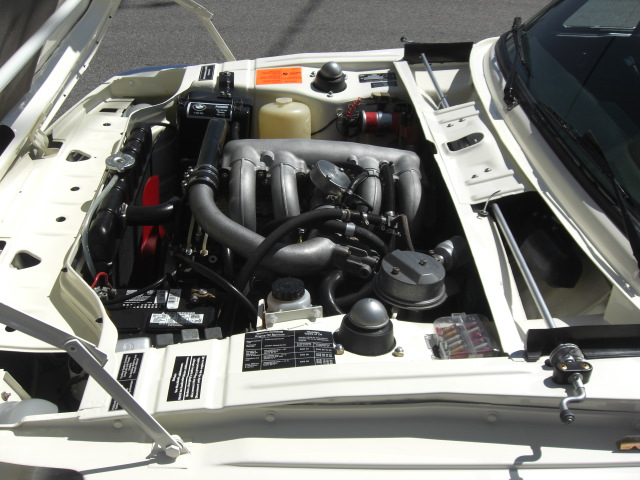 Engine bay on the above 2002 Turbo.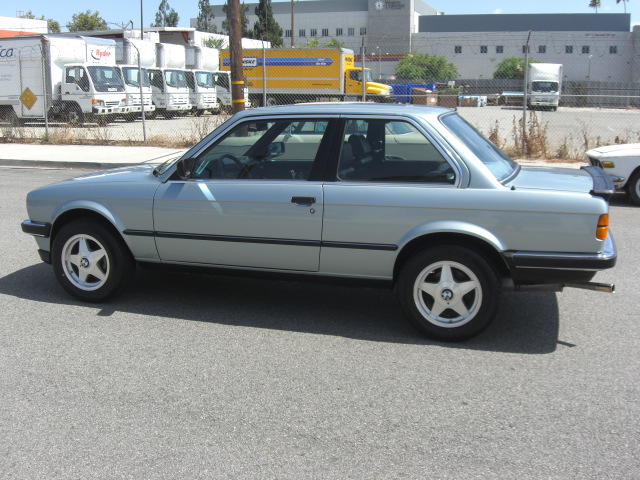 This '83 323i in Safirblau is a rare Euro-version E30 that an Orange County customer brought to us to
restore everything but the drive train, as a long-term project.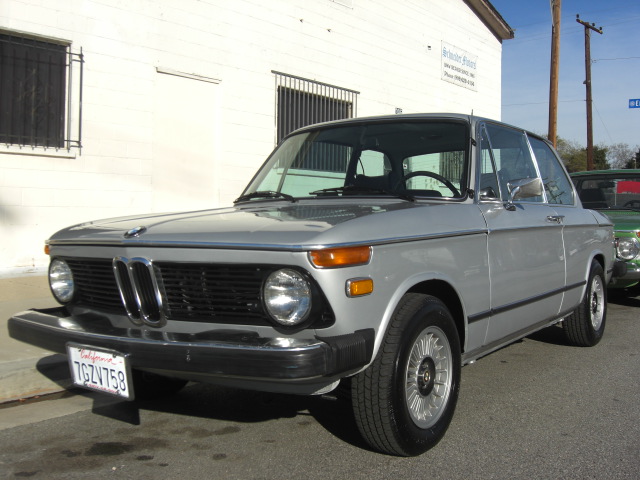 This is a '74 tii that a customer bought on-line and brought right to us for a color change, interior clean-up, and other restoration work to make it a really nice daily-driver for him.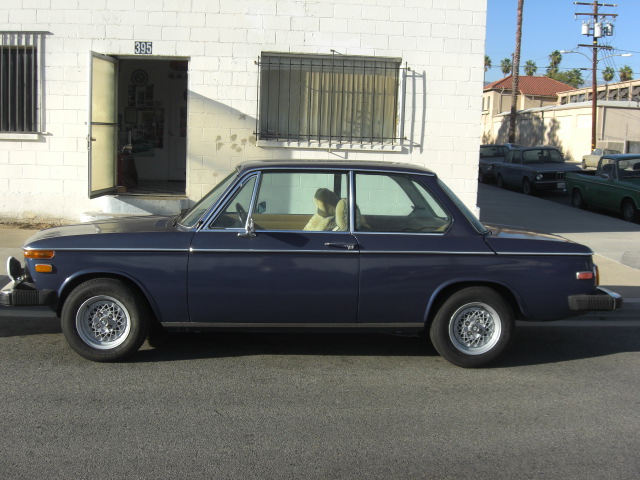 We drove by this car for years each summer on the way to a car show, seeing it parked on the street in forlorn condition. Knocking on the owner's door and offering our services, we were allowed to do enough restoration work on the car to make it both presentable & driveable again for her, who chose Alpina Blue for its new color (very close to Arktisblau).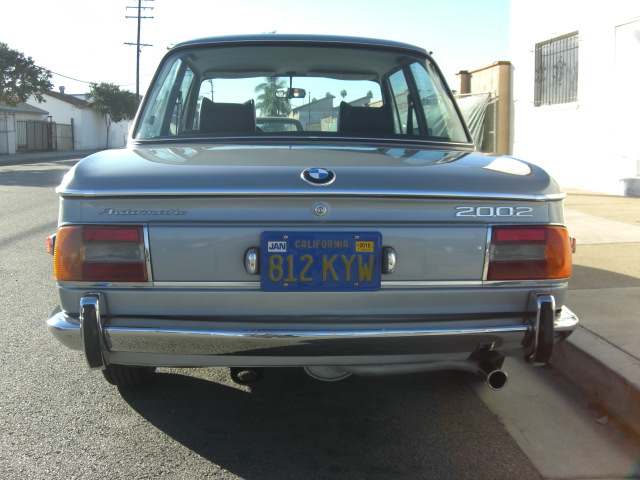 This '74 Automatic was purchased from us 20 years ago, and was sitting for years before its owner decided to have it restored so he could drive it again. At his request we changed the Malaga/beige color scheme to Polaris/blue, changed the bumpers to early ones, and rebuilt the engine for him.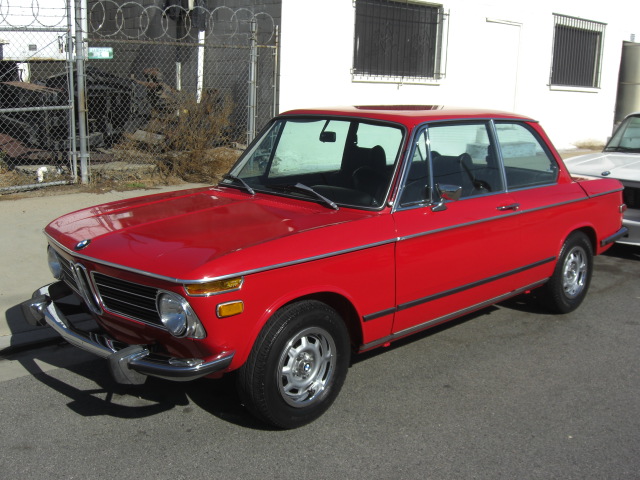 We watched this '73 tii sitting under a cover in a driveway of a rented house just a mile from us for over a decade. Finally the owner called us and had us revive it & bring it to our office, as he was selling the house. He ended up giving the car to his brother, who flew out from Florida to drive it, and he decided to not only keep the car but to have us completely restore it, adding A/C in the process.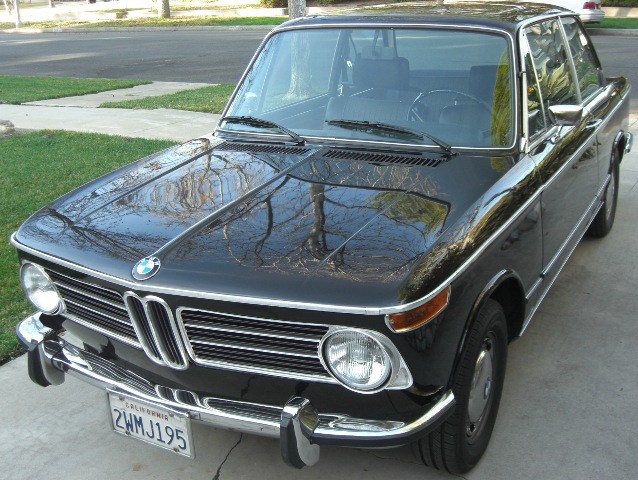 This is a '72 2002 which we restored for a local customer over 10 years ago. Since she uses it as her daily-driver it was due for a refreshening, so she brought it back to us to have repainted, the seats repaired, and the car generally resorted.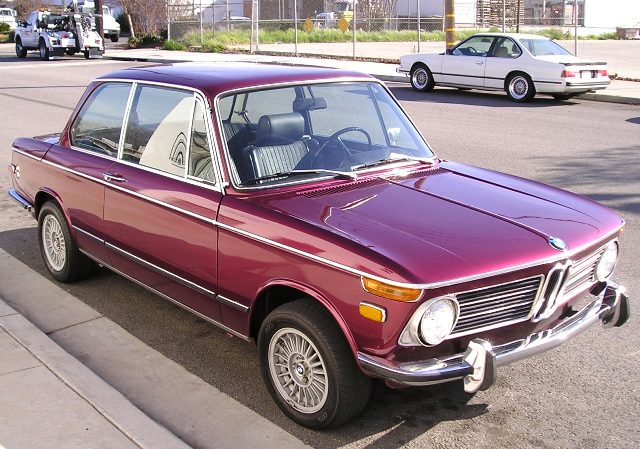 This '72 2002 automatic came to us to have the engine rebuilt. We repainted the engine bay while the engine was out the unique color of Romantischerot, which was used by BMW only on the last 40 E34 M5s built. The car's owner also owned one of these M5s, and obtained the color code for it from BMW in Germany so we could match this car to his M5. Over time we repainted the whole car, converted the transmission to a 5-speed, added A/C, upgraded the suspension, and did other restoration work on the car for the owner & his son.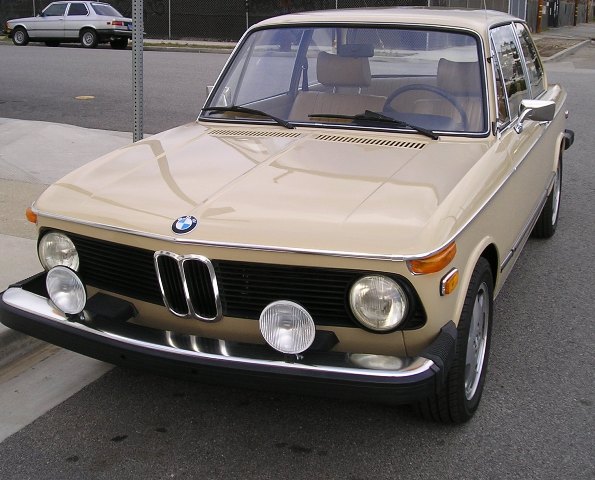 This is a super-original '76 2002 with only 48000 miles on it, found in storage by our customer from Palm Desert, purchased and brought to us to upgrade and perfect. We installed big brakes front & rear, upgraded the transmission to a 5-speed, replaced the seals, mouldings, carpet, dash, floor mats, radio & speakers, added A/C and fog lights and just repaired whatever blemishes it had in the original paint.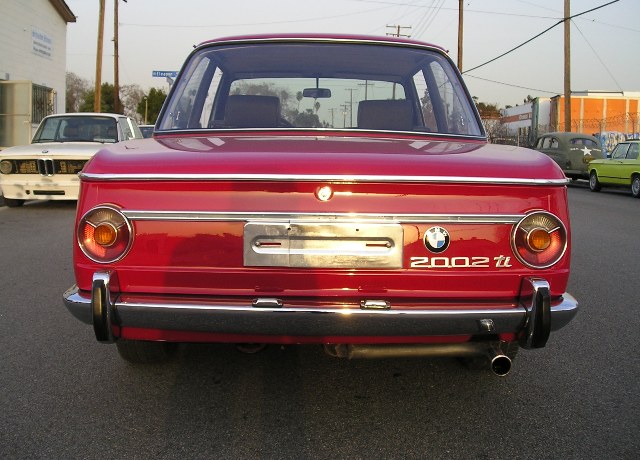 This is a genuine '70 2002ti--the only one we've ever seen--brought to us from Canada for restoration. It was repainted in the original Granada, interior was spruced up, trim was plated or polished, and the car generally sorted-out before transporting it back to Canada where this rare model was imported new.
A '76 Fjord-on-tan car for a local customer which he drove for decades and then put into storage. He had it towed to us to revive so he could enjoy it again as a weekend car. We rebuilt the engine, repainted it in the original color, and reupholstered the seats for him.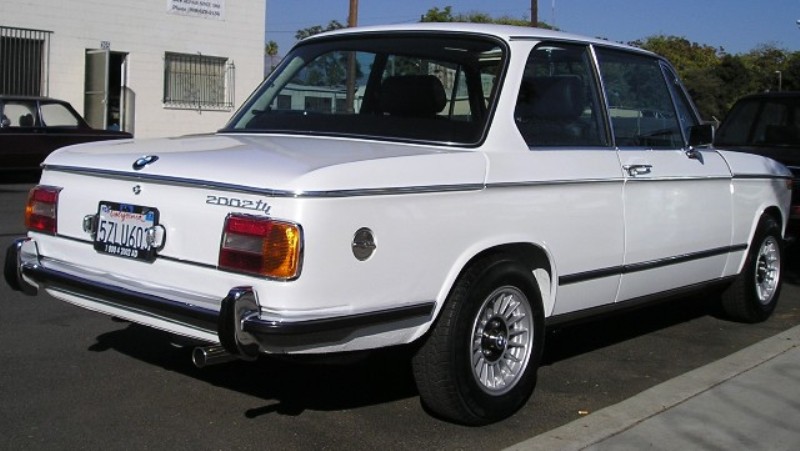 This is a '74 2002tii that was resurrected, fully restored, and given many tasteful upgrades for its original owner in Henderson, Nevada after decades of storage.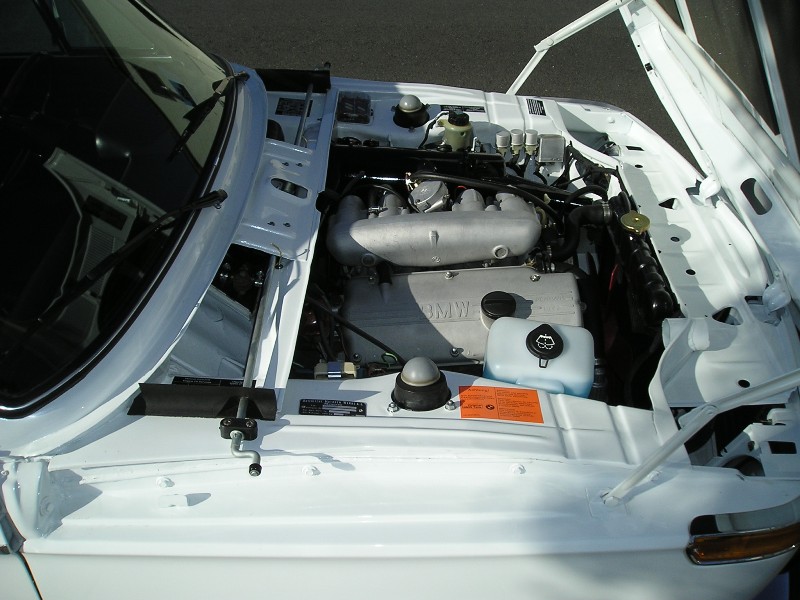 Engine bay on the above '74 2002tii.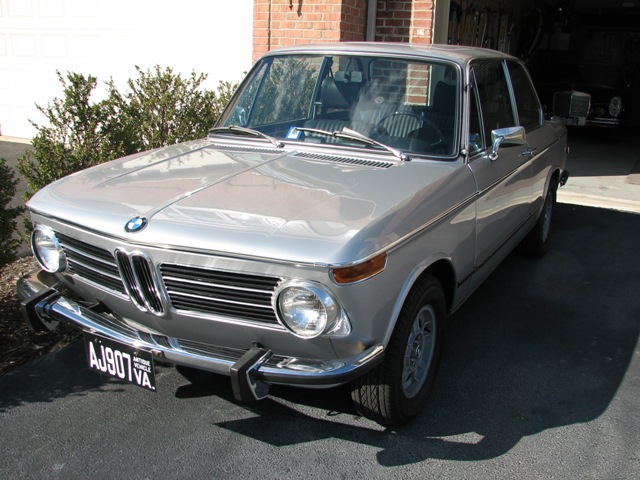 This is a '73 2002tii that had a major front-end collision. We completely repaired the damage while restoring the car for the new owner in Virginia, who bought it from us as a project to restore.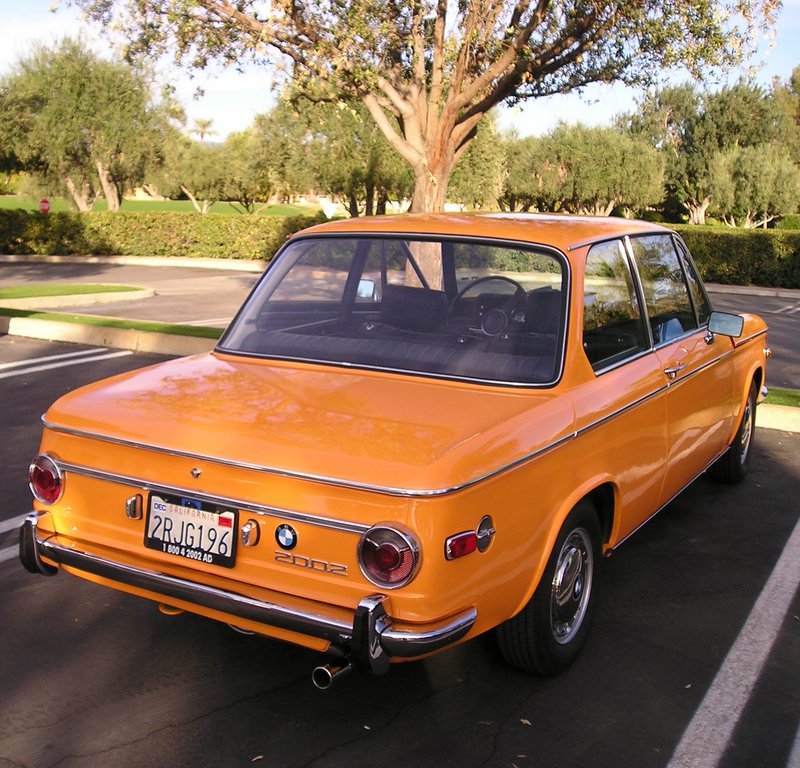 This is a '69 2002 that we restored for a client to give "back" to his father in Pennsylvania who had bought the same year and color new, but who had regretfully sold it many years ago. What a birthday present!
This is a '72 2002tii in the great color Ceylon, which we did restoration work on for a local customer.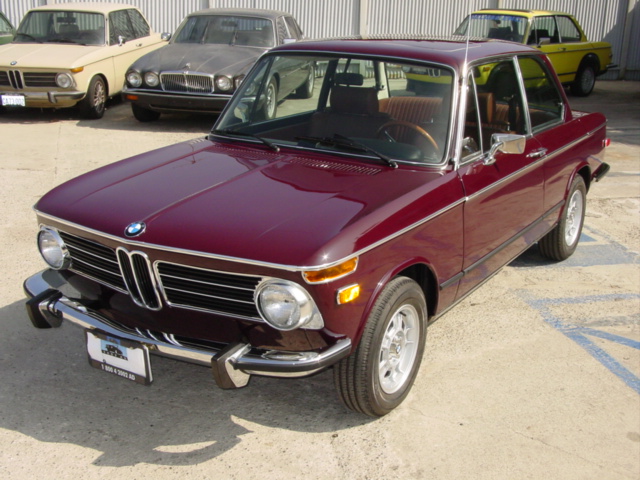 This is a '73 2002tii that was restored for a client in Laguna Beach, California.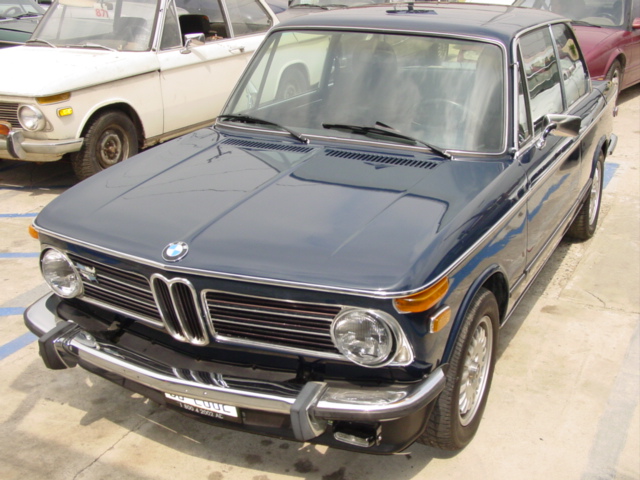 A nice '73 2002 which was restored for a client in Ohio, in 2002.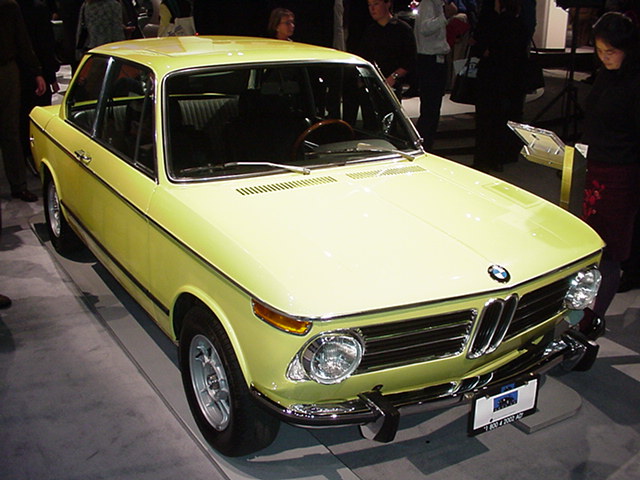 This is a '73 2002tii that was restored for a customer in Yokohama, Japan. It is Golf yellow with a black interior. The customer ordered the car with a 5-speed transmission, upgraded brakes, A/C and since he is in Japan-- where they drive on the left side of the road and toll road booths are really hard for the driver to reach out of the passenger window--we adapted electric windows to the car for him. This car was featured at the LA auto show in January 2002 as a representative example of a 2002 in the year 2002. It was present at the press conference when the Chairman of BMW NA unveiled the new 7 series. This picture was taken at that show.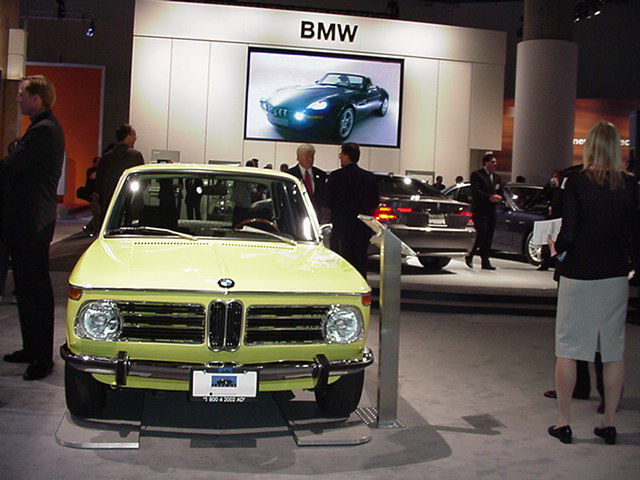 Another photo taken at the 2002 LA Auto Show.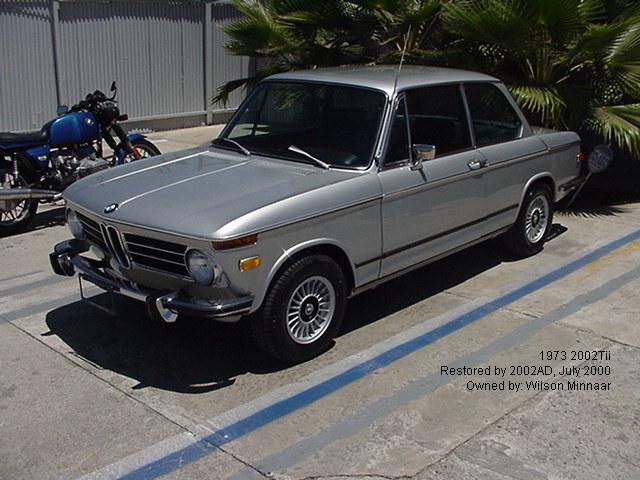 This '73 2002tii was restored for a customer in Long Beach, California in 2000.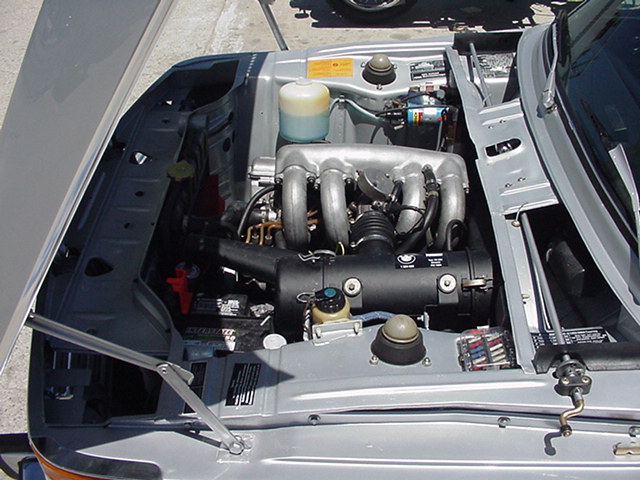 Engine bay on the above tii.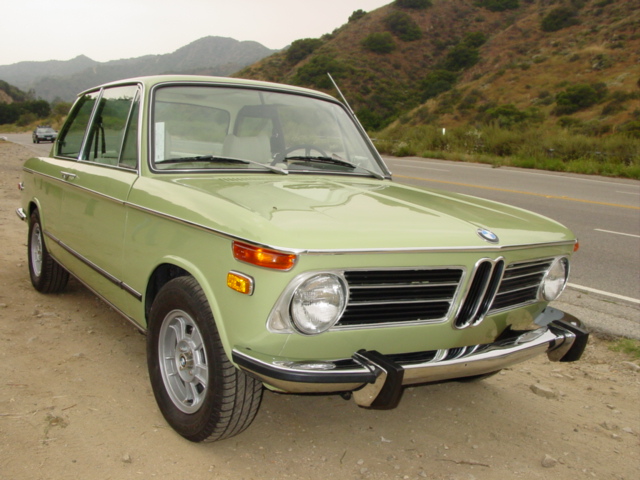 This is a '73 2002tii that was restored in 2003 for a client in New Mexico. It includes an unusual white leather interior (and the paint is not a factory 2002 color).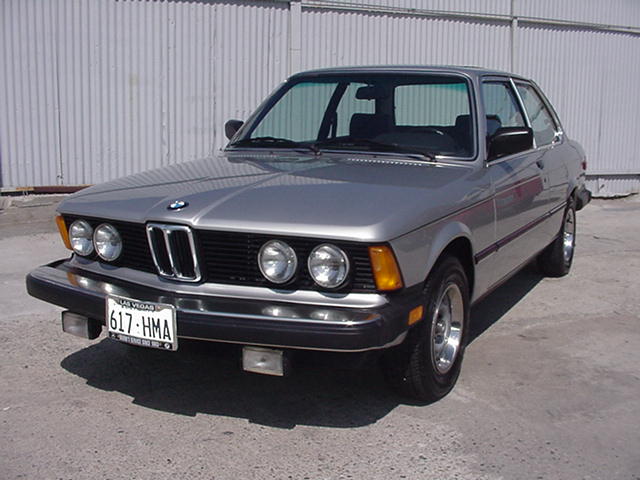 This '82 320i was a ground-up restoration for a couple in Las Vegas, Nevada. We completely rebuilt this car back to showroom condition.